Psv license is a compulsary license that needed when you register as grab driver. Psv license is a license for carry passenger that being provided by Malaysia government of Malaysia for E-hailling driver. Grab is giving you a cashback for each psv license make up to RM120.
how we can assist you
We Grab authorised Alpha driver will assist you in navigating the e-hailing rules and get your Grab Psv license.
For e-hailing approval, the Ministry of Transportation mandates that driver-partners adhere to the following rules:
What is being Describe the PSV license?
( lesen vokasional)
Any sort of vehicle used to transport paying passengers may be driven by the holder of a Grab Psv license, a type of vocational driving licence. Drivers who work with e-hailing services must now obtain a Grab Psv license.
How is a PSV ( vokasional) licences is obtain?
Pass the requisite medical examination in accordance with JPJL8A criteria in step one.
Download the "BORANG PEMERIKSAAN KESIHATAN PERMOHONAN LESEN VOKASIONAL JPJL8A" form by clicking this link. Borang jpj L8A
Ask for a medical check-up for a PSV licence at any clinic. Clinics should be aware of the necessary procedures; if not, simply present the JPJ L8A form. Your medical examination's findings are good for a year. It last for 1 year period
Attend PSV training and pass the PSV exam in step two.
You can take the PSV exam and participate in PSV training at either a Grab Driver Center or other driving schools: it is advice to take with grab since is the cheapest available for time being.
Driver Center for Grab
Visit the Grab Training Portal and choose your favourite date to enrol for a PSV Training course. To join up and use the portal, go to this manual. The sole location currently offering PSV training and examinations is the Grab Driver Center in Petaling Jaya or give us a whatsapp at
how much to pay first?
For Grab Psv license Payment of RM80 is require at registration. Payment must be done online through the training portal. Once you are register as a Grab driver-partner, Grab will pay you for this expense.
Additional Driving Schools
Bring your NRIC, driver's licence, and JPJ L8A form with you when you visit any driving school.
You can sign up for a 6-hour training course there.
How much rebate grab provide?
Payment is require at registration for . The price will vary depending on the driving schools. Grab will cover up to RM120 of this expense in Klang Valley. Click here to view the many driving schools by city outside of Klang Valley along with the reimbursement amount. For further details on how to be repaid, see "Terms & Conditions" in the FAQ section.
After completing the training, you must sign up for a 1-hour written exam. Please be aware that the exam day will NOT coincide with your training day. It will be on different day and expected in one week time range.
After passing the test and training, you will receive:
What i got after i pass the exam?
1 year expiration date for the JPJL2C Certificate (Training Certificate).
JPJL12 Diploma (PSV Exam Certificate)
Please be aware that before starting training, you must resolve your summons. Make sure all the court case already being done and settle.
How to collect my psv license?
Step 3: Register with JPJ for a PSV licence.
In the same state where you received your PSV training, visit any JPJ office. For instance, if you trained at the Grab Driver Center in Petaling Jaya, you can visit any JPJ location in the state of Selangor.
Bring the necessary paperwork when applying for a PSV licence:
-MyKad original and replica
-Original and copy of a driving licence (CDL) with an expiration date that is at least a year away
-Form JPJL8A (Registration and Medical Form)
-Certificate JPJL2C (Training Certificate)
-JPJL12 Diploma (PSV Exam Certificate)
-1 colour photograph (with a white backdrop) that is 25 mm x 32 mm in size
-Pick up your PSV licence in person at the JPJ office location where you registered. From branch to branch, the collecting date will be different.
-If you have any questions while completing Step 1, please contact one of the driving schools (2).
-Please be aware that JPJ does not offer PSV-related services at its UTC branches.
How to activate my account after get the license?
Step (4) Submit your PSV Licence for payment.
-Please provide your PSV Licence after registering (for new partners) CLICK HERE FOR REGISTER GRABCAR
-The document will be checked by Grab throughout the onboarding procedure.
-When switching from deliveries to transportation (for existing partners)
In GrabAcademy on the Grab Driver app, finish the "MY 4W GrabCar Transport Training."
-There are five modules to finish, as listed below:
-Dos and Don'ts for Managing Your Wallet
-Pickup, Dropoff, and Job Completion
-employment for back-to-back and multi-stop rides
-EVP Process – PSV
-Utilize the document uploader within the Driver app to upload your PSV licence and Car Grant.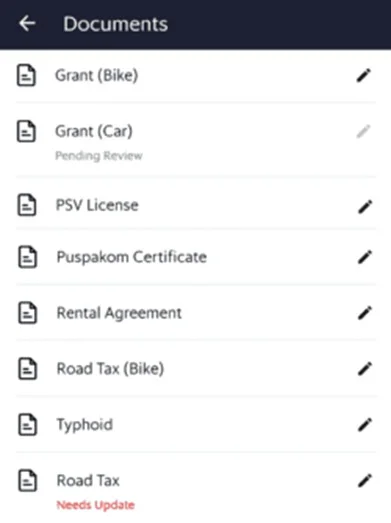 If your update is unsuccessful, a message with the status "Needs Update" will appear in the document section. Simply select the "Needs Update" area to view the rejection's justification and upload the appropriate, accurate papers for evaluation.
Within 7 working days after submission, we will confirm and update your account.
Drivers who submit their PSV Licence will receive RM 20. (one-time only).
You will receive an additional RM100 for PSV Training if you finish your PSV Licence outside of Grab (one-time only).
We also provide an assist service which we gonna help driver to book their class and manage their exam.
provide a payment gateway to help you guys for easy book and easy payment and will help in upload a document and guide you until you earn.
you can check the benefit from doing grabcar